we're settling in here fine, it's been a month.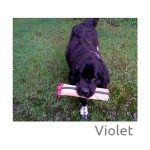 You may recall Violet has a heart condition and takes medication and does well.
Tonight around 10 – about 2 hrs after her evening medication – she went outside with Saul – hot humid night – ran around a bit, came in and FAINTED. (not a seizure, a definite syncope/vasovagal)
Recovered fine, drank water, ate biscuits, etc. I told her don't run around in the heat, but it's not really that hot 
She's on Atenolol – could be an arrhythmia from her heart in which case she needs a dose increase, or could be medication made her dizzy and dropped her blood pressure in which case she needs a dose reduction.
Has she been having any problems like this lately? or is this the first time?
As we connected with Violet, who showed up but big sis Emma! Emma is highly evolved and attuned and we were not a big surprised that Emma showed up.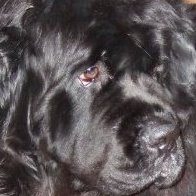 Violet shared:
EMMA showed up before we could even get to Violet! Emma said she is assisting and here to help. Violet said Violet still struggles with the sadness that seems to invade Violet. This creates some fear for Violet. Violet is having many spontaneous moments here at Violet's new forever home. Saul tries to comfort and play. Emma is helping with Emma's healing. Emma has a skill to see inside Violet's heart. No obstacle stops Emma from helping. Violet feels everything- sensitive? (she asks) Maybe Violet wants to be okay, always. Violet can't remember the circumstances of falling out, passing out, unexpected for Violet. Violet looks ahead with a smile inside Violet is adapting to all the loss and gains . Life is loving here for Violet. Violet feels cared for and with all the changes this is what Violet needs LOVE, kindness and it is here for Violet.
Then we heard back:
Everybody is great!
I think violet is much calmer – a noticeable difference from yesterday.
She tinkled on her walk today for the first time (kennel dog) – learning about what walks are for besides exercise
Violet just came over, I asked her if she had something to tell you – she said tell her violet loves Dr. Ming.
I said how does Violet feel, do you feel ok? She said Violet feels ok.
then she got a tiny bit sad and got a hug.
I'd say a big success
thank you!!!