Hello, this is my little Batty. She was the runt from a litter of 6 rescue kitten at about 2 weeks old, from the side of the road along a major interstate. Two of her siblings were adopted by friends and doing well. Her remaining 3 litter mates tested positive for Feline Leukemia and we slowly lost them one by one last fall till only she remained. I have always felt a very strong connection to Batty;  so named because as a small fragile kitten she had the face of a little black bat. Every time I bottle feed her something different would twitch on her body in shear delight for nourishment.
Thanks for working with Batty. I have completed level II in Reiki and I believe her and I can do great things together. There is a reason she came into our lives and is still here with us!
Then during the week I was working and practicing with Batty, we got more feedback from Mom: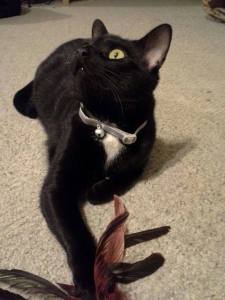 Just an update on Batty.
I was away last night doing a group Reiki session and upon returning very late home Batty seemed very tired. My husband informed me that during the evening he realized that at one point he couldn't find any cats. (Side note: Batty is our oldest girl and in mid Dec we adopted two new friends for Batty after the passing of all her other siblings and our dog because I knew she was lonely.) After a long period of time Batty came up the stairs from our rec room where she has been going to do your sessions. In tow, were Sunshine and CB; I think they were checking out what she has been doing and being supportive 🙂
Thanks Ming!
Wanted to let you know a stressed out neighbor was here for about half an hour tonight and Batty instantly sat in front of her and I believe she delivered reiki to her for a while.
During her interview with Candy: Batty shared:
Batty

is fascinated by all the lessons because

Batty

has a thirst for this knowledge .

Batty

has wanted to learn these skills to explore

Battys

abilities to help others.

Batty

wants to contribute to assisting Mom in her work because of all the gratitude

Batty

feels for

Batty

's life with you.

Batty

works on healing always within every day. CB and Sunshine want their daily energy healing from

Batty

also. This makes

Batty

feel so wonderful to share this with

Batty

's family