Keegan was wonderful to have in class. Cats are smart. Cats are intuitive. Cats pick things up fast. I knew Keegan would be a wonderful awesome healer.
 Keegan said Keegan was busy doing all Keegan's lessons on healing. Keegan would see a bird or a bug and send healing energy. Keegan was practicing on Keegan, first Keegan's paws, then Keegan's legs, back, spine, neck, throat, ears, nose, .. repeat.. its sensational to pet yourself with energy healing. Keegan feels it flowing through Keegan, relaxing and invigorating. Keegan feels very refreshed and a sense of renewal after every healing session. Keegan likes sending healing to Mom to replenish Mom's energy too.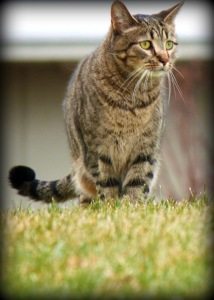 Keegan too heard everything I said to him. Starting with the ears down to the tail !! And the most wonderful thing is that Keegan said he can "pet himself with healing energy" .
Mom said:
Thank you so much. I was looking for him awhile ago and couldn't find him anywhere. He was laying in a secluded corner in a cat bed I have never seen him use. He didn't even acknowledge me at the very least I usually get an ear twitch. About 10 min a ago he came out with lots of stretching, and yawning. He went directly to the water and drank for a long time. After that he came running to me jumped on my lap and started kneading my legs (something he rarely does.) 
I asked him what he was doing he replied "I am healing you Mom! I am a healer just like you!" He is very excited and confident in what he is doing. Thank you both so much for all that you do.  You are right he is awesome! 😉