here is jinxie – in the picture,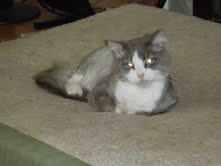 he has recently been shaved – and right now he is incredibly furry – time for shaving again (can get you a furry picture if you need it).  jinxie has some allergy problems – not nearly as bad as tic – he is a very large, and peaceful cat – not at all intimidated by people, dogs or other cats.  he really likes the new house – i have converted the screened in porch to a cats only space with a small pet door to the house and he spends most of his time out there in his cat tower and fresh air. i have no real goal for him – but i love how the other animals responded to the attunement and look forward to hearing what he thinks of it.
Jinxie made us laugh so hard. Definitely a BOY cat 😉
 Jinxie said Jinxie has graduated from the attunement school with honors. Jinxie just has a knack for knowledge it flows and is absorbed by Jinxie. Jinxie is healing the others in this big furry family of Jinxie's. Its like having a ray gun that shoots these invisible rays of healing and Jinxie is the Controller- zap , snap, pow. ..everyone feel the healing! Yeah, Jinxie needs to focus on Jinxie's skin and fur to reduce the allergy attacks. Jinxie will continue to save the furry household and Jinxie from all forms of harm. Candy said GO Jinxie!! Jinxie said Jinxie needs the angel that will assist with his mission! (Yes we gave Jinxie the angel that will assist with Jinxie's mission!)
Mom said:
the reports were amazing.  i can totally believe pretty kitty calling herself ms kitty!  she is very proper – and somewhat self-absorbed – but loving on her own terms.  jinxie amazed me – i really didn't know if he would be involve himself, he's such a calm cat, i never would have imagined that internal dialogue..  i love that he now has a reiki ray gun –  such a guy, and that he's using it on the entire furry family.  years of watching the kids and their video games seems to have rubbed off.  jinxie has spent more time in with the family this week of the attunement (although it's reallly cold on the cat porch where he usually like to hang out).  all the animals seem to be interacting more this week than usual, although pretty kitty still seems to prefer her own company.  thank you both so much for the attunement and insight into their lives.  It was, as usual, totally fascinating.