We have the wonderful opportunity to visit this rescue farm: www.safeharborranch.com
We attuned Zsa Zsa and Ace. Here's what Zsa Zsa shared. We look forward to hearing stoires on how Zsa Zsa shares the healing!
Zsa Zsa says there it goes again with another blast of healing energy coming at Zsa Zsa and throughout Zsa Zsa. Zsa Zsa does the healing lessons and Zsa Zsa is getting double doses of healing energy because of Ace. Ace is really good with the energy healing work.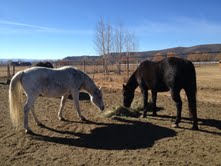 Dr Ace for the farm and Zsa Zsa will assist whenever and wherever needed. Zsa Zsa likes seeing Ace feeling so helpful. Ace wants to help and heal all the animals . Zsa Zsa does too and in a slightly different way Zsa Zsa knows this healing energy work will help all the people and animals here and everywhere . Ace or Dr Ace likes being able to prance with healing energy.
We love how Zsa Zsa props up Ace another great female 😉 They are truly wonderful healers! Our privilege to attune them !An angel was also sent to Zsa Zsa this angel will be with Zsa Zsa in this life and the next. This angel will love and comfort Zsa Zsa forever. She will be able to see and talk to this angel anytime!