Marley and Gracie, the two most loveable labs that belong to a wonderful giving lady. We go to know Marley's soul over the past year. He's a funny and sweet yellow lab.  He survived eating 10lbs of chocolate, asked us to balance his chakras he said whatever they are.. and made us laguh.
He went in for surgery and the Vet found cancer. They with Mom made the right decidsion for Marley to cross over .  Losing a pet is always so difficult. I cried along with Marley's Mom.
Mom has been asking Marley to come to her in her dreams. Then she asked us to connect to Marley. Here's what he shared with Mom:  
Marley said Marley flew with all the angels to the other side. But Marley came right back to Mom, in the car, on the way home. Marley has never left Gracie and Mom. Marley is still there. Gracie sees and senses Marley often (could see Marle…y wrapping himself around Gracie) Marley will sit right next to Mom and Mom gets a dreamy look on her face…. Marley is always in Mom's dreams. Mom, you just aren't holding onto the memory of Marley when you wake up. During your dreams we are together. Let go Mom before sleep and set the intention of remembering Marley when you wake up. Marley is there with you Mom in love and gratitude for all your kindness and love over all the years.
We also received a letter from Marley's Mom that she had not shared with us before. She asent us a picture of Marley during his first session with us.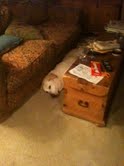 Hi Ming, I wanted to share this photo if Marley with you. I took this the first time he had a session with you and Candy. This sold me on the amazing healing powers you ladies had. He walked himself over to where he was …and lay down. I had friends over and was cooking dinner when that happened. Having Marley leave friends and food to lay down and relax is no easy feat. This is just a testament to what amazing things you ladies do
Marley, you'll never be forgotten as your soul soars on with Gracie and Mom.