Dex – a thirteen year old German Shepherd/Rottie mix.  His back legs are getting stiff within the last year.  Dex tends to be restless in the evenings.  I have  a fenced in yard that keeps my cats in so sometimes they go outside to do their business.  I think Dex feels hungry and goes outside to search for any buried kitty treasures.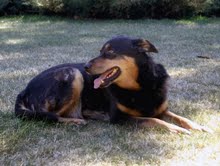 Then he comes back inside and makes a loop in the dining room where there is a litter box.  He then lies down for a minute and then back outside he goes.  Then repeat.
 Why is he so restless and does he need anything?
Dex said whew, so relaxed from all the healing energy Meggie was receiving. It just washed over Dex and really quieted Dex. Now its

Dex's

time to understand everything about this relaxing sensation because Dex likes this. Dex begins to feel jumpy at sundown and then starts to pace a bit. Dex cannot control this because it comes from something within. Dex likes this healing energy because it quiets the call for the pace to start. Its like you found the switch and turned it down or off and Dex can go back to calm, relaxed and just sleep with no internal purpose. Dex will be using the healing energy all the tim to help quiet the demands and allow Dex to have the life of a happy content Dex again. Yeah, Mom for this present!
Both dogs were relaxed during their session.  Dex had some moments of being restless, and Meg licked her paw a bit, but both dogs were much more relaxed overall last night.
Allergies being the reason that Meg licks her paws makes a lot of sense.  Sometimes she licks her toes and I think maybe she gimped a toe nail but then sometimes she licks her leg. So allergies do make sense.  I recently found out that the Nature's Variety, rabbit formula is made in China.  Was feeding that because Dex is hot internally and rabbit is a cooler food.  But I recently finished that bag and started to feed them the chicken formula.  Just maybe once the last bag works through Meggie's system her paws won't tingle.  And her vet is both conventional and holistic, and she does muscle testing for allergies. So I'll ask about that.
The other day I took a Massage class with Meggie.  I will offer some massages to Dex to help him relax.  
Thank you so much for the healing sessions!!