When you and Candy get a chance, could you fit my sweet girl Alexa in for a session? Her arthritis is acting up and I have increased her Adaquan shots to weekly as well as increased some of her other herbals. I'm running out of things in my bag of tricks to help her. L I know the cold weather is making it worse for her but she is being her typical sweet self and not complaining a bit. I can see in her eyes that she is just dying to chase Rachael and Jake around but can't. She just watches them play and run and her little nubbin wags like crazy… it just breaks my heart – she is way too young to be dealing with all of this. Thanks so much for your help!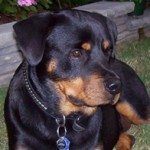 Alexa said wants to play and run with Jake and Rachael but Alexa's body won't go when Alexa tells it to. How funny and weird is that? Alexa's legs are not able to fly like Jake's or even Rachael's. Yes, Alexa can walk fine but all that wild fun stuff is what Alexa watches Jake and Rachael doing. Sometimes Alexa is really good with Alexa's guardian angel and some relaxing. Not everyone is meant to run so Alexa spends time thinking and relaxing which feels pretty great to Alexa. Alexa knows Mom and Dad want Alexa to do more but Alexa accepts that Alexa's body can only do what Alexa's body can do. Alexa is not attached to what a body can or cannot do because Alexa feels very smart about so many things. Alexa feels that Alexa is living the good life.
Thank you so much for checking in on my sweet Alexa tonight! I've had a two very long days pulling and transporting rotties and was totally pooped and sound asleep for Alexa's session – until she woke me up singing right when her session was over!  It was so funny – right at 10:16 she starts howling and when I went to check on her she was lying comfortably in her bed dozing. Didn't even lift her head when she was singling, lol.  She just gave me a sleepy smile and was off to dreamland. So either that meant she had a really great session and was saying "Thank you, thank you, thank you!" or she was sorry it was over and was saying "Come back!" She always makes me laugh. Such a sweet girl.
I'm so glad she isn't attached to what is going on with her legs. I know that intellectually but its nice to hear. She is such a brave girl and does as much or as little as she can handle but it makes me sad when I can see in her face that she wants to play with the other two and can't. We just want to keep her pain free for as long as we can and give her a great life. I'm glad that she has such a good attitude, but then again, that's so typical of my sweet girl.