Pearl is our grandma dog, a 13 year old great pyrenees. we love our pearl. she is the last dog still with us from our old pack. she is such a sweet girl. a mind reader. a protector. a sister. our family.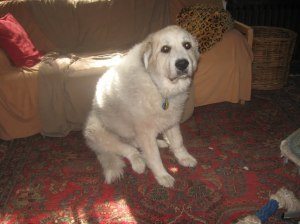 Pearl said, Pearl is worried that Mom can't find Phil. Pearl keeps looking but of course Mom does not let Pearl wander the streets and hills alone on the search. Phil is Pearl's family too and Pearl knows it will be fine but Mom doesnt know that.Pearl is not complaining of much of anything. Pearl has nice home food to eat, a sense of well being so Pearl is good. Candy told Pearl Mom is going to be fine and Phil is on a journey that we hope leads Phil home again. Until then Pearl relax. Mom knows how to do to the Mom thing and Mom just needs Pearl to know Pearl is loved and Mom's rock. We are restarting your systems, get them up and running at their optimum and the healing energy to each cell. Pearl we are going to clear your mind and send in the healing energy to allow Pearl to relax and feel the calm slowly washing over Pearl. Pearl there is a special angel to be with Pearl. Your angel will always help you feel peaceful, calm and loved. Your angel will be with you always Pearl.
Mom did tell us that she took Pearl on a walk so that she felt like she was helping as well.
thank you, candy and ming. pearl is our love. she is very connected to us and pearl and phil have a special connection. phil loves to relax next to pearl. phil also loved to do this w diamond.
thank you candy and ming. pearl thanks you too.