As we have healing sessions with Coconut and Licorice,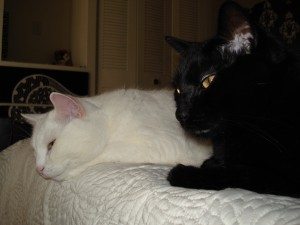 we learn so much about them. These two sessions were fascinating as one cat, Coconut enjoys the angels and spirit world while the other, Licorice enjoys the physical world. We thank Mom for sharing their cats with us so we can hear their wonderful stories.
From Mom:
Licorice is noticeably more and more social and playing a lot! He is like a kitten. He snuck outside a couple more times when I wasn't careful with our broken screen. But he was demonstrating that he was behaving himself like, "see, I can come out here and be a good boy!" I have to snatch him up because I think Coconut was figuring out how Licorice got out, and when Coconut gets out he runs and jumps off the porch. I think Licorice gets it, and I want to be able to take them both out for fresh air when I know what's going on…no surprises! 
Licorice said, my turn- my turn! Licorice can feel your presence with Coconut and now Licorice is waiting for Licorice's turn to be pampered. Yes, for Licorice, healing energy feels like a purring inside-out. First this relaxing, peaceful sense of filling Licorice up with all this healing energy – then Licorice feels this cohesiveness within after the session. Licorice does appreciate that Mom is TRUSTING Licorice to go out and play outside. Mom does leave an escape hatch for Licorice and that is a message to Licorice (wink wink) to go play. Coconut plays in Coco land and seems happy there. Licorice needs the real world to connect to so out Licorice flies to explore!
I wasn't home until late in the evening and I even stayed out a little later so I wouldn't barge in on their sessions.  When I came home they were both at the door and excited.  I'm not often greeted at the door like that by BOTH of them!  They had a lot of energy and this morning seemed EXTRA relaxed when I headed out the door (even Blueberry seemed more perky).
I guess I do notice that Coconut interacts with spirits and angels more than Licorice.  I think Licorice sees them then moves on and Coconut hangs out with them!  Ah, so he's sharing food with other little fur babies that I can't see…that's so cute and cool and makes perfect sense now!  And it's nice to hear he thinks he has an exciting life…in Coco land as Licorice put it 🙂  I like to hear Licorice's commentary, like "a purring inside-out" and "wink wink"…that cute little bugger!  Thank you as always for the sessions and for concentration on Coconut's eye!