Rudy and Kelsie are now considered our regular clients! Mom and Dad went away for a bit before Christmas so Mom scheduled sessions once during their stay at doggy camp and then when they got home.  Kelsie was going to be crated while Mom is away on errands and we used healing to help with that transition:
As we connected with Rudy, Rudy responded right away, oh-oh-wow so much has happened since we were together. No, the kennel went okay. Rudy kept Rudy's eyes open for Kelsie but Kelsie is doing better. Rudy and Kelsie did play together there too. When we got home– crate– was all set up. Kelsie is nervous and Rudy explained that Rudy once was in a crate when Rudy was younger. Kelsie needs more reassurance than a brother can give. Rudy is glad  you told her how special her space is. Rudy is going to be the man house dog and while Kelsie is relaxing in her new space Rudy will be guarding her and our wonderful home. Kelsie knows we will all take good care of her.

Rudy wants to make sure everyone knows what a good boy Rudy is because Christmas is coming (smile)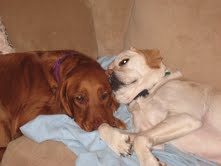 When we connected with Kelsie: Kelsie said
Kelsie needs the energy healing and Kelsie is glad that Mom brought us home. No, things were not so bad there but Kelsie is afraid that Mom may not remember to pick up Kelsie. Rudy told me that Mom always keeps her promises and Mom would never leave us behind because she loves us so much. Kelsie needs to remember what you told Kelsie before about this special space, a relaxing, calming, resting area that only belongs to Kelsie. Mom feels Kelsie needs a quiet place to feel safe when Mom has to out sometimes. Kelsie has this new special space because she is so loved by Kelsie's whole family!
Hi Candy and Ming,
I am SO happy to be home with my fur babies…we missed them so much!  They were both very tired until about an hour ago.  We got home yesterday afternoon.  They are so much closer now…they are playing with each other, they have to sleep right next to each other, they will just randomly go over to the other and kiss noses.  They really bonded!! 
Rudy's paws are perfect, no blisters at all!  I love how Rudy reassures Kelsie.  Rudy got his Christmas presents early…I guess I will have to get him more 🙂  I got them both Kong toys that can be filled with peanut butter or other treats, to make the crate seem like a very special place for both dogs.  That was their presents.  Kelsie did SO good with the crate today!!!  We all talked about the crate together last night…Kelsie went in, I went in and my husband went in. (Rudy refused to go in).  We explained all that you did to Kelsie about it being her special place of relaxing.  I put the peanut butter Kong in the crate and she very happily followed, Rudy got his peanut butter kong also, which he ate right next to the crate.  When I got home Rudy was in the front window "guarding" the house and Kelsie was VERY proud of herself sitting in her crate!!  They were both proud. 
I strongly believe that the Reiki/Avesa session helped Kelsie with her anxiety when I leave her alone and also with accepting the crate.  It is so great to let people know that these sessions don't just have to be for ill dogs.  I remember when Kelsie used to pee in the house because she was anxious and drank so much water.  After a reiki session that has never happened again 🙂
Thank you so much for the amazing work you both do!
Happy Holidays,
Diana