Right before Thanksgiving we got a request from a very nice lady in Texas.
Dear Ladies,
I have a 4 year old paint gelding. Tomorrow I am taking him in to Texas A&M to have some squamous cells removed from his left eye globe.  I feel these cells must be removed asap, they started growing from a tiny spot that has been there for a couple of months, very aggressively just this week.  It looks very angry.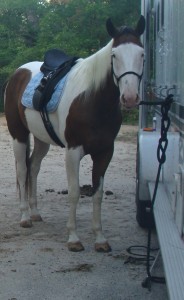 You may be surprised or not surprised, but animals know this as well.  We had the opportunity to interview Janet Roper's horse this summer. ( here's the link to the official transcript of the interview! Click here –
Straight from the horses mouth! )
This horse told us this:
RFB: How did you know we visited you?
S: I'm not silly! I knew you were there!! You humans can be so ignorant sometimes *sigh*.  I am a teacher, and we horses are so much more intuitive than you humans usually are. I knew, and all the horses in the barn knew you were there.
RFB: Do you horses just know what happened or do you talk about it.
S:  We just know, like I said we are highly intuitive and sensitive creatures.  All the horses felt the energy; even though I was encased in it, it radiated out to the rest of the barn.  We horses recognize and respect good energy.
When Candy and I got together to Reiki this horse in Texas all of this came back to us. We concentrated the Reiki on his eye on the lesions, on the squamous cells of his eye while the whole time telling him and realizing at the same time that we were helping him tap into his own healing energy.  We were helping him find the switch.  He is a strong horse.  He wants to heal and wanted to help heal himself as well. We told him he could beat this and the power within him was activated!
We heard back from his Mama shortly,
Thank you very much for your healing energy for J, I was in the barn for part of the session.
Just puttering around cleaning stalls, and trying not to worry or impeded his progress.  It was interesting that he kept turning towards the "empty" corner of the stall, he would look that way and then back at me.  I just let him know that what was going on was Ok and good for him.  I also imagined a bright vortex of energy, pulling healing energy in for him.  It's pretty cluttered up around the stall he was in, lots of junk piled up top and machinery around the front.  So mentally I was trying to clean it up for his experience.
Yesterday after his surgery he was very sore, imaging a horse being laid down for over an hour. I as very worried about that.  That was pretty hard on him, and he could barely back off of the trailer, but this morning he was up & ready for anything, except his eye was bothering him. I always imagine my conversations with Jesse, and we seem to communicate very well, so it's no surprise that he was as open with you guys.
J's next and hopefully his final radiation treatment will be on Jan 5, my spirit tells me that this radical treatment is necessary to get rid of those squamous cells. Those large animal vets at A&M do wonderful things with healing horse eyes.  Wouldn't it be great if when we got there, we were told the second treatment won't be necessary!
Also wanted to mention that just now, when I tried to lead him back into his usual stall, he didn't want to leave the stall he had his Reiki in.  Surprised me because we had put him in that particular stall for the morning, so he wouldn't get bright direct sunshine on his face, & he didn't like it initially this morning. He made it known that he likes an open window.  He likes to stand at the window of his usual stall and look out at his buddies in the big pasture.  But he stopped twice & planted his feet as I was trying to lead him out, the third time he finally came with me, into his newly cleaned stall.
Lastly thanks for sending the Angels yesterday.  Having them around during the haul & with J & the surgery was above and beyond, & really helped J, and calmed me too.  I really have to watch my energy around the horses, I am a high energy person & tend to let it get the best of me, the Angels reminded me of that. 🙂
We send this strong and powerful horse love and light!