Now that the beta testing is over and WOW have we learned a lot about Reiki and Animal Communication, we are continuing that service for $125.00. For that you will receive a 30 min Reiki session for your pet that comes with physical AND mental healing (if need be) or your pet can receive double physical healings or double mental healings depending on your pet's situation.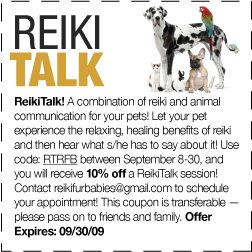 Remember you have BOTH Candy and I giving your pet a Reiki session.
Then after the Reiki session, Janet Roper from www.Talk2theAnimals.com will talk to your  pet!  But for the rest of the month of September here is a coupon! Email us to schedule a session!