We were planning a trip up to Santa Cruz this past week so of course we had to make boarding arrangements for our sweet fur babies Kc and Star. We took them to the Kennel Club @ LAX because our other dogs loved it there but with Kc's shyness it has been impossible for him. He wouldn't let anyone pet him. He would hide in his kennel and not play during playtime with the other dogs.  Then came the new puppy Star and she was too young to board at the Kennel Club the 1st time we needed to go out of town.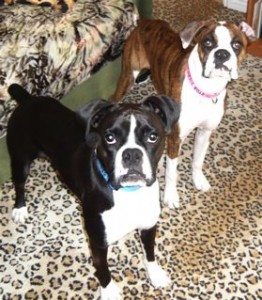 Tom and Alicia boarded dogs on their farm about 50 miles from us. I wrote a blog about my two boxers playing with the horses, sheep and pigs before. They would go wild out there and really have fun. However since then Tom and Alicia moved to a much smaller ranch which has limited their ability to run around.
The arrangements were made and because our drive up to Santa Cruz was at the last minute, it made more sense to use the Kennel Club @ LAX because it is so close. I also felt with Star there shy Kc would be fine. She would bring him out and look after him  like she does at home. I was really excited for Star and the staff at the Kennel Club because they were very close to Ry the boxer we lost to cancer.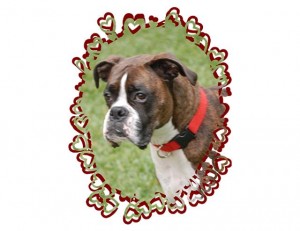 Our fur babies only stayed 4 days at the Kennel Club @ LAX.  We go to pick them up and inside my head and heart I've been very anxious about Kc. You know all the things a mother worries about- Did he play with the other dogs?  Was he afraid? Did he let the staff pet him, etc? Now Star was never a concern to me because she jumps in your face and fills you with her boxer tongue. She loves people, other dogs, and is a little too social most of the time.
The staff informs me that Star was the one trying to keep out of sight in the back of their kennel and Kc was Mr Sociable. Kisses all around and couldn't play enough. I'm convinced they have the two dogs mixed up. I explain to them Kc is the Black & white one and Star is the Brindle.
No, no they have it right. How did this metamorphosis take place and why? The staff explained that sometimes this happens when dogs have never been kenneled before. Nice that Kc got to be the big brother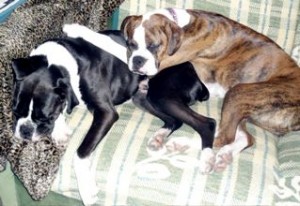 and take care of Star for a change. Don't worry this reverted back to normal with Star has soon has she saw me. Kc does seem a little prouder when he walks around the house now. More in charge, a lot like Star.