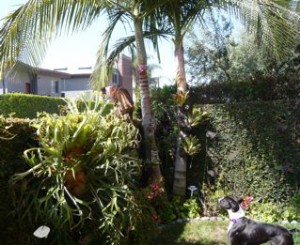 Antics is a gentle word for the terrors that Star is putting us through right now. It started with a squirrel that comes to our sliding glass door everyday and says "eeee eeee eee"-come out to play! Anyone that knows dogs especially Boxers, "eeee eeee ee" is a war cry! They charge through the sliding glass door whether open or closed! Lots of great THUDS were heard from that. Now the little darling squirrel runs back and forth tormenting them. Then it leaps in front of their faces into the neighbors birch tree and almost falls off the branches laughing at them! Because my little cupcakes cannot catch them! Everyone in the neighborhood can hear me yelling "what are you doing in the garden? Stay out of the garden! What a mess!" I have had the gardener corner off the flower beds to keep their thunderous feet out while they are chasing these rodents, aka squirrels! Now you can see the problem here the fence has limited the dogs mobility to chase and hopefully catch that squirrel.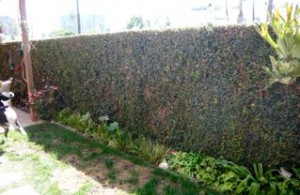 Star, being a girl would sit and think this over. Today she solved it! She jumped up a 6 foot wall in a single leap and RAN along it to catch the squirrel! The squirrel got away and Star got distracted by the street noise, cars, kids and she jumped onto to the other side! Teresa our housekeeper was here upstairs looking down not believing her eyes and started screaming in spanish for this dog to HALT!
Star does not speak Spanish. Star runs like wild. Teresa runs downstairs grabs Gordon and they run out to find this wild Boxer who is running the streets. The best part is Kc. He's frozen like a statue in the same place where Star took off. He's in shock and doesnt know what happened. He saw her go up and out. He's waiting for her to return. My husband being an old movie fan remembers Tarzan. He begins to bellow STAR! Teresa runs one way and Gordon the other. Here comes Star up the street on her way home. For her to find her way home around the block is a miracle.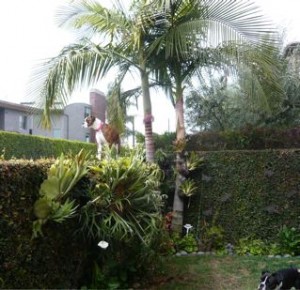 I get home w/ the groceries. Gordon and Teresa tell me what happen. I find this very hard to believe. So Star without a word proceeds to walk out and literally leaped up on the wall and starting running along it. (Darn, I wish I had my camera!) I gave her a good stern DOWN and she came down as fast as she went up saying what's the problem? She was very proud of herself! I turned to walk in the house and she turned around and jumped back on the wall again. OMG! Here we go again. I said DOWN! She gets down all happy and proud. Look at my new trick Mom. I can join the circus! Im come in the house look in the paper and there are no circus' in town. This is enough.
Ming arrives and I share the horror story with her. I realize that Star can never ever be left outside in the yard alone. It doesnt matter that my whole property has a solid wall around it. My flying butterfly will not allow walls to contain her. She is meant to be free or so she thinks. I tell Ming let's get on the internet to find a way to stop this. No jumping Boxers in my house. Not a lot of great info out there other than telling them to NOT to. Well, no surprise.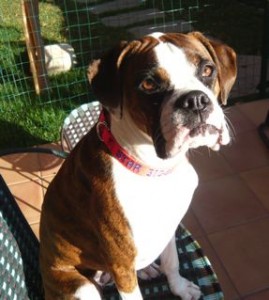 Ming remembered and told me that she gave Sammy reiki to stop digging in the yard. Lots of mental healings and Sammy stopped! Hasn't dug a hole to this day. So Ming immediately sat down on the couch with Star in her arms and started mental healings. I put the hammer down and let Ming handle it her way. We'll try mental healings first. We'll keep you all posted on her progress. Just in case you see a beautiful brindle boxer answering to the name of Star. Please call me ASAP!