His name is Twist. He was 15 in August but still likes to go for a walk and follow me everywhere
There are tumors at the anus and tail for years.At his anus for the moment he no longer bleeds, the tumors are healed it's his tail (or since the death of my other dog it heals to reopen a little further) he had several sore and the 2 is done a sore big enough and I think I stopped the infection but it still oozes a lot and I do care (disinfected, cream / essential oil) 2 times a day.
Thank you for your help. It's true that if you talk to him he may be able to shed more light on what he feels exactly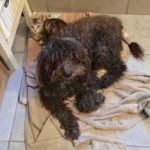 When we sent Reiki to Twist – we asked him how he was feeling:
Twist​
 Twist feels good and now with this guardian angel is awesome. Mom does THIS healing too and helping for Twist. Twist has lots of courage and determination can you feel it?? Twist it not too attached to this sores on Twist's tail. Twist thinks of these as a nuisance at times. Mom has all the hope and happiness for everyone. Twist feels calm and relaxed most of the time. Twist likes this peaceful feeling . Twist feels grateful for all this loving and healing from Mom.
From Mom:
Many thanks !
Has always I know that I'm not enough confident in my opinion and feeling 🙂 But happy to hear all that and confirming some point.