This past week in meditation the unicorns have really been visiting me.. watching them graze, come in and out- such beauty. They also are quite magical and love to heal. I was talking to my friend
Carolyn Arnold
one day and she told me she too saw a Unicorn and it asked for an attunement. I was really excited. I told her let's check with
Coryelle
. As Coryelle checked in with them, there was a YES! Coryelle asked me to pick the date and it came to me that it would be 4/4/14.  As Carolyn is now Reiki Fur Babies Master she is joining us in this attunement, after all they came to her first!
Candy and I both love the message from the Unicorn… and hey, you just may see some attuned fairies! Woo HOO!!
This attunement will be more liberating for all who participate because this means you have opened up not only your mind but your hearts to who and why we need to return. No more confining what we all believe because love and understanding is without conditions and this is how we shift and grow.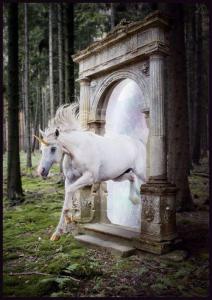 Now there will be room for expression for freedom , for mistakes and forgiveness. You will all begin to really SEE!!!
During the attunement I saw someone standing next to the Unicorns. I thought to myself who would that be? Ah!! The fairies were next to the unicorns. The unicorns will attune all the elementals. 
The magical will be more magical!!
And thanking Diana Tootell:I got a very similar message! And yes I saw the fairies with the unicorns the entire time, and I didn't believe in them either!! They said to stop limiting them, by limiting them we are limiting ourselves. We are are here to help you! Let us help! This is our world too! Every being has a job to do, we are all connected.