In 2009 a stray queen cat gave birth to 7 (!) kittens in our barn. Make it short… we kept 3… a solid black, a tuxedo tabby, and a petite solid tabby, no white. They're all neutered. The solid black boy, named "Mo" ( short for Mighty Mo)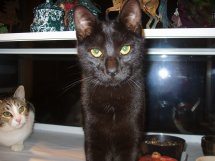 bacame my husband's favorite. He acts more like a dog than a cat. Helps hubby do barn chores, sleeps with him, begs at the table like a dog, etc. A BIG personality!! Well, Sunday night, hubby and all the cats did their routine of "closing up the barn". All three cats were with him as he checked each horse, locked the tack room, etc. Came back to the house, BUT MO NEVER CAME WITH HIM!!! He just vanished! We walked the fields, the road ditches, looking for sign. Nothing. There has been no coyote activity recently, neither visual or audible. No one has seen our Mo cat. " Arnold", the tabby tux is depressed, looking for him, smelling the places where he likes to sleep. As brothers, they did a lot of things together… hunted mice, chased bugs..
Mom's intuition told her that perhaps a horned owl may have gotten to Mo. They had a few in the property nearby.  As we connected with Mo, there was a vision of a large owl with a big wing span that came over Mo. Then Archangel Chamuel was petting Mo and covering him in pink blanket of love. Mo said, Mo feels fine. Mo was right behind Dad then was right beside Dad. (Mo crossed over immediately so fast that Mo wasn't even aware what had happened it seems) Mo knows only the love from Dad and the love from Mom forever. Mo feels like Mo is having a great adventure but Mo wishes Dad and Arnold wasn't so sad. Mom is more practical and can connect to Mo! Dad, Mo will make Mo's presence known so Dad will feel better and know it is ALL part of Mo's journey here. Mo will find you again in some way so everyone will feel the bark of Mo's meow.
Mo felt the connection from Mom. 
We then connnected to his brother Arnold who was grieving and looking for Mo. Mo cam e in even stronger during Arnold's session. Candy said to Arnold,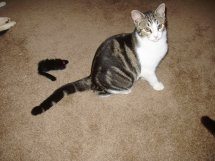 no I'm not Mo but you know that. Mo told us that Mo's spirit is there with you now with Mom and Dad. Mo said to Arnold- Mo doesnt want to forget all the fun that Mo and Arnold had together but be happy with each other too. Mo promises to stay close to you Arnold and Mo wants you to do a favor for Mo. Arnold, go sit with Dad whenever Arnold can because Mo knows this will help Dad heal the sadness within. Purr for Mom a few times too. Arnold said Arnold liked watching the show, the Mo show. For Arnold it was so much fun just being part of this family with Mo in charge. This healing energy will help Arnold very much because its helping Arnold open up inside and allow the joy in. Arnold realizes that Arnold's family is healing but Arnold knows Arnold has Mom and Dad and now a guardian angel so Arnold will start to feel better some day.
So much love between Mo and Arnold as well as to Mom and Dad. This love will always be there. All the souls of this family are all connected.
I heard that Arnold was sunning himself the next morning. Much love and light to Arnold's family for the loss of their Mighty Mo.