Rogue. He is my 13 year old Husky mix. He has been with me since he was 5 months old. We are having some arthritis issues in hips and have a nasty recurring infection in his gums that could use some work.
Love the strong conne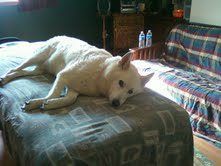 ction between Rogue and Mom.
Rogue said, Rogue doesn't question why you are here. Rogue knows if you Mom wants this healing energy for Rogue then its going to be fine. Mom makes good choices for Rogue. Mom loves Rogue and Rogue feels a strong connection between Rogue and Mom. Candy told Rogue, Rogue you are absolutely right on! Mom wants Rogue to feel better so we are here to do some healing energy work. We are going to reboot all your systems up and running. Now Rogue we are sending in the healing energy this energy will be in every cell and revitalize Rogue to feel in tip top shape. Next we are sending healing energy to your mouth. We are flushing out anything that isn't in balance with Rogue. Now comes the bathing of all the tissues right down to the roots of your teeth. Mega amounts of healing energy sent in over and over to help promote healing immediately. Rogue will begin to feel a sense of well being immediately. A very special angel has requested to come and be with your Rogue. Your special angel will surround you with love & kindness and never leave you Rogue!
Took the boys to the dog park today. It's one of their favorite places to go. Typically though after about 45 minutes Rogue is hurting and ready to leave. Not so today. He is always like the energizer bunny "he keeps going and going". LOL but when he's ready to leave he comes to find me or just mills around by the gate. Today I actually had to drag him out of there after being there for an hour.
 
He has also be especially affectionate since his session, which is highly unusual. when he wants loved on he comes around but he seems to want it more often since Friday, which is awesome.
 
I hope you guys had a great weekend.
 
Deborah
 
PS – Rogue sends a big woooowoooooo to you both