It was time for Olare's monthly session! After we get our monthly report we always give her a session from us. Olare had a lot going on over the month, they lost 2 new baby elephants.  Here's an excerpt at how hard Olare works:
As usual the lions have been targeting the resident warthogs, but eventually managed to kill a buffalo not far from the Elephant Stockades, and this anchored them for a while not far from our compound, sending the elephants and their Keepers into a high state of nervous alert. Every morning Olare embarked on a hurried round of all the stables and stockades to ensure that all her brood were still present and correct after a disturbed night!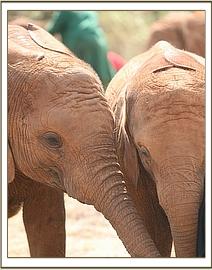 When we connected with Olare, Olare said: Olare felt your presence and then you were here to comfort Olare. Are you Olare's Angel Mommy? Olare feels the love whenever you are near just like when Mommy was with Olare.  Olare is now Mommy of so many babies that are hurt, sick and sad. Olare wants to be like you and make all the babies feel safe. The angels are here with Olare and Olare thinks that this is why Olare feels loved and protected by the angels and Angel Mommy.