Candy said to Sam, you are so handsome.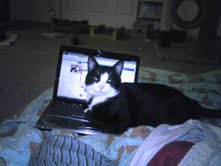 Sam said Thank you, Sam is a handsome Sam. Then Sam said, Sam would enjoy the healing energy now. Sam is fairly focused on what is going on now. This feels relaxing to Sam but Sam must be truthful and you Sam is relaxed. Will Rain be getting this also? We told him "Yes, Sam Rain will be getting this too". Sam said, Sam isn't sick or anything so maybe this will make Sam stay strong forever? Sam said, Mom would like that. Then Sam said Sam eats green eggs and ham, have you ever heard this before? Candy said, I think that is from a book and now I'm hearing it from you! Sam then said, Sam had a nice time with you too. There were many angels around Sam, including Sadeerah and other spirit cats as well. When we asked the angel to come forward for Sam, we saw a HUGE angel. His name is Giddel which means "Great". Giddel feels very powerful and so gentle when reaching down to Sam. Sam and Giddel have a greatness together and are attracted to each other. Giddel will be with Samand will always hear Sam. Giddel says Giddel speaks Sam 🙂
We heard back from Mom. She said the angel's name even sounded like Sam's old name. She was so delighted with the book Green Eggs and Ham, the cat in the book is named Sam!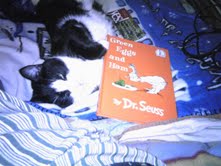 She read the book to Sam and then sent us this picture.
Candy and I were just laughing and found Sam to be such a wonderful cat!! He brought us a lot of  joy!! I told Candy, I just love this job!