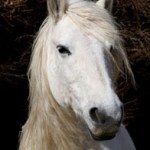 The beginning of this year is when I met Bodhisattva. (I met him in some reoccurring dreams)  I went back and read and had forgotten that I had asked Alanna to help me out! Here's what she said again:    She told me that this horse has a VERY different energy than the other animals helping me.  She said he was "magical" (for lack of a better word). She told me he was intuitive, telepathic. He is smart, wise, gentle, loving yet forceful and powerful at the same time!  He was looking for a leader. He would take charge if we are not fully in charge.  If we are fully in our power he will follow or if we doubt he would run over us ! She said she saw images of a goddess warrior riding her horse!
I always call him in and it seems like during the time when I was seeing a lot of power animals he kind of took a back seat. Well,  since seeing all the angels and they are DEFINITELY still there, he is back. Not only is he back but he came forward when we sent healing to another horse last week. He came right up next to the horse side by side and was communicating with him! I was so excited. I could not hear what they were saying.  He was helping even more with the session. It was awesome.
I called on him with the session with the dog too and again he assisted.  I will keep calling him in and see where this will go and how he and I will grow and change! I'm excited to see how this evolves.
____________________________________________________
I have an addendum already! When I was getting to know Bodhisattva, one day he let me ride him in my dreams it was so awesome, I will never forget it. That was the day we bonded. In this morning's session with a teenager, I intuitively asked if she could ride him, I saw him bending down and up her soul went! I was grinning from ear to ear!!