This morning my corgi Lucy did something different. She came upstairs while I was still sleeping and BARKED. I got up…and noticed Mochi was still under the bed. She usually sleeps on the bed with Lucy. It's the sweetest thing actually to see a dog and a cat sleep together.
Mochi is my 15 year old mainecoon. She has seen me go through graduate school, a marriage, a divorce. She's seen me go through many a trial and tribulation. I have cried so many times on her. She's seen me learn Reiki. She has seen me grow and evolve.
This morning after Lucy alerted me, I crawled under the bed to see what was going on with Mochi. I then heard this terrible noise. She was gasping for air. I totally freaked out. I started to Reiki her when I realized she was dying. She had not even been sick! I told how much I loved her, cried, and thanked her for being a part of my life. I told her it was okay to go. I ran to get her some water and texted my husband, Candy and tried to reach Bridget. Candy was coming down to Reiki her with me. Bridget called and she said she'd talk to Mochi. The first time around Mochi would not talk she was in pain. I did not want to take Mochi to the Vet because I did not want her to be traumatized. I wanted her to go in peace. Candy told me I should take her to the Vet. Then Bridget did too. I got the cat carrier and ran upstairs with Candy, Sammy Diva and Lucy came too.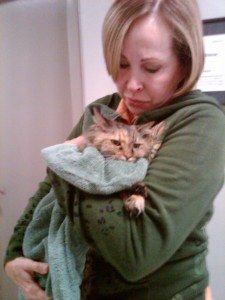 The Bay Cities Vet was awesome. They took her into triage immediately. The Vet came out and said that she could barely hear Mochi's heart and there was probably a mass over it. Then the dreaded question. I already knew the answer. In tears I said yes, it was time for her to go. I tell all of my clients to do right by their pet. It was my turn to return the favor to Mochi. The Vet stepped out. Candy and I started to Reiki Mochi. Mochi was no longer panting or even crying. She was incredibly still. Candy took her in her arms and held her. She told me Mochi is expressing all this gratitude to you Ming, for doing this for her. As Candy told me this, Mochi literally turned and looked at me (the pic you see) I cried and cried while holding her ears in my hands because they were so cold.
My husband sent a text of a message to Mochi. Mark is the only man that Mochi ever loved. Mark said his good bye and I sent a picture to him.
I was able to say everything I wanted. For that I am grateful. The Vet came back and administered the medication. As Mochi left her body it was an incredible moment, the soul of Mochi left the 7lb shell. She was gone.
Bridget told me she saw Mochi scale a cliff to a temple just for cats. She was so light in spirit. She told her "cat energy is real" as she was leaving. The only wish I had was for Mochi to not be in pain.
The grief is definitely in waves. It comes and it goes. I miss her terribly. I miss seeing her bowl. I miss her loud mouth. I asked her to come visit me in my dreams.
We had a Reiki session later that day. It was incredible. It was like Noah's ark coming to me. It was so beautiful. I even saw a rat that I had given Reiki to that had crossed over. They were ALL coming to me. I then saw Mochi. She didn't stay long but she was there. Then she was gone.
I know Mochi taught me a lot in life. She may teach me more in her passing. Mochi, I'll never forget you. I love you.