A couple of weeks ago we got a request for this parrot,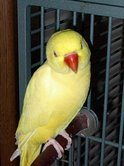 she said "I've had him for nine years–he will be 10 years old next year. In November 2004, he had a weird feather grow in on his chest and began picking at it resulting in a fairly deep chest wound. I took him to our vet who patched him up and put him in a plastic collar. About a month later, Jackson fought against the collar which caused a deep cut to his neck–all the way down to the muscle. I rushed him to the vet again, this time for surgery and several stitches. Since then he's been really anxious, especially if I'm not around. He also picks at this chest until it bleeds. Every once in a while he'll be pretty stable, leaving his chest alone. But then something sets him off and he goes at it again. When he starts to pick, I have to put a soft Elizabethan collar on him to allow the wound to heal. He doesn't like it. I don't like putting it on him but, at the moment, it's the only thing I feel I can do.
A few weeks ago he was fine so I let him sleep without his collar on. In the morning, he was full of chest wounds. Since then, I've been keeping him wrapped except when I can supervise him. This morning we went through our normal routine when he just started going at it again. He has another cut on his chest now.
I've taken him to every avian vet in my area where he receives a clean bill of health. I'm also feeding him the best organic pellets I can find. Some part of me knows part of the challenge is psychological and another part has to do with me, but I don't know what to do. Any help is greatly appreciated."
During the Reiki session we found him to be quite an intelligent bird! Candy said, he is what you would call a "nail biter" if he were human. He kept asking did you see that cat? Is it inside? Is that a dog?
What is that noise? The noises bother him. The reason he picks that one spot is because that's where it all started. We reassured him that he is safe, that Mama was taking good care of him and making sure he is safe. He said he agrees, BUT….. He's very on guard and wants to know if the cat is outside. He said I
know Mom loves me and gave me Reiki. It is very warm and I like it BUT WHY did she get me Reiki. We've never encountered such an argumentative animal during Reiki 🙂 He just needed all his questions answered! We suggested to Mama if you don't already , talk to him more and reassure him that things are okay.
We did a full physical healing on him, picture a "balm" of energy around him so to soothe him so he wouldn't have the tendency to pick at himself. We also gave him a mental healing which (is like re-wiring) so he would be less anxious.
We heard back from Mama, "You hit the nail on the head with the "nail biting" persona. If someone looks at him crossed-eyed, he starts biting his nails! Same with the cat and the dog. He grew up with the cat; the dog came into our lives three years ago. During the time of the session, he would kind of zone out, like he was listening to something. Later on in the evening, he kept acting like he was going to pick at this chest, but he would stop and move on. Before I covered his cage for the the night, we had a little chat. I've spoken with him in the past but this time was different–he was definitely listening."
Mama thought he may need another Reiki session but we said to observe.  A few days later, we heard back,
"He's still doing really well. Most of his scabs have healed already and he seems mellower!"
Reiki is amazing in every animal. We were happy to hear that his scabs had healed up!