We had the honor and privilege of giving Reiki Talk to some herding dogs. Well, not just "some" herding dogs but these dogs are athletes! What strength and energy they have. Not just physical energy but spiritual energy as well. I love giving Reiki to them.  They were also so HAPPY!  The first one we did had some groin area injury we were told and Mama was worried as we Mamas do.  But whe he was asked about his Reiki, he said he was showered with energy encased like a triangle. I do believe Janet's horse also described it as such.  He said his body took the energy in effortlessly "like it was meant to".  That's the phrase that has been coming from other pets as well.  When asked if he wanted more Reiki sessions, he said "put it on the books!" His responses were so full of energy themselves. His reply to his groin area was that it was an athlete's injury with pride. Sure enough, once again, the pet reassures the Mama, he's doing okay. He says his Mama doesn't listen as much to him as he does her and thow they are team. He said Mama can count on me, I am there for her. Don't you just love this? We look for friends in our lifetime that will say that to us! I think that is so sweet. These dogs are just wonderful.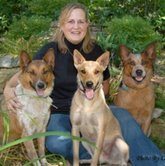 The next two were just as fun.
This one is a girl. She too enjoyed the Reiki and said it was a soothing balm. The phrase I enjoyed from her is that she said she would teach her Mama about having fun and enjoying life . She said what a benefit that would be.  Is that not the case? After a frustrating day coming home to your loyal and loving companion, that is a great , a HUGE benefit! This Mama is surrounded by such loving dogs.
Then lastly another male herding dog full of exhuberance! I love these guys with their energies! He said "manly dogs" can accept treatments! He said he felt better. When asked about his back, he too reassured his Mama, its takes time to heal and we can't push time.  How thoughtful and smart huh? We all need to remember that, we can't push time.
These 3 dogs are amazing. Sounds like they work hard, play hard and love their Mama so much. It was a joy to Reiki them!