Since we have started Reiki Talk I have been learning a tremendous amount. The more I'm learning, the more I want to know and the more questions I have. Its like layer after layer is being peeled off.  Reiki in itself is amazing. I'm learning more about Reiki. I know that it helps, it heals. I have witnessed miracles with Reiki. BUT, to hear from the animal to describe Reiki is not like any human has ever described it.  I can tell you what I think of Reiki when I receive it. I feel mentally better, I feel physically better. I have had a headache go away, a tummy ache stop, a rash go away, a muscle ache stop, sleep better.   I have felt the warmth, the tingles that the energy can bring. HOWEVER,  to hear from the animals, even from my OWN pets that they can get the healing non directly I did NOT know.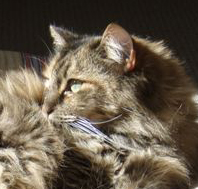 My cat can get Reiki while I'm directing it at my dog. My cat can receive Reiki while Candy and I are giving a Reiki session yet we're a few houses down. How does that work? Well, today a cat said if you are open to it, you can receive its benefits.
Is that not the key? Be open. Reiki is not going to hurt you. Its doesn't cause harm. There is western medicine and there is eastern medicine. There are medications and there are herbs. I myself have two hats, I have a doctorate in pharmacy yet also am a Reiki practitioner . Be open.  Why not?
When I wanted to start Reiki Talk, my goal was to get the word out. Get what word out? How amazing these animals are. They really have something to say.  As we have horses, dogs, cats participate I am actually seeing a theme. Some animals are more articulate about it. But they are all essentially saying the same thing. They feel a "stature", they feel "important", they feel "recognized".  They are quite wise. I have to say I have a new love for animals. I loved them before, but now I have a complete full out RESPECT for our creatures we share this planet with. They thank us for the writing "their words".  When they thank us, I am humbled.