How did it begin? How did a Boxer lover like me get involved with so many cats? Involved is not even the right word, its "in love" is a better word. I remember a cat in my childhood named Henry. I even have a picture of me holding this black and white cat.  But when our first Boxer arrived he hid behind the stove a lot. Then my daughter and son had a black cat named Jake. He was a "killer". He would hide under the couch and as soon as visitors came, he would attack them. The children thought this was fabulous. My friends, not so much.  When I remarried, my husband's children were  terribly allergic.  Jake would up in a wonderful home where they adored him and he was even the envy of the neighborhood. I get my Boxers and I'm over the cat. I have such an indifference to these feline friends.  I hear people have cats all the time.
Then my BFF Ming has cats. How is that possible? I'm going to avoid them too. This goes on for several years. I have no encounter with them. While she and her husband were away on holiday I took over overseeing construction of her new office. Everything is running smoothly. Someone is watching over her one cat at this time and I'm looking over the workers. On the weekend there is no one to look after Mochi. Thank goodness my god daughter Jennifer (she has a cat) visits so I drag her over to take care of Mochi. Jennifer had dates and plans.  So she only spends 2 minutes with Mochi. Even this non loving cat person like myself could hear and see the distress in Mochi. I sent Jennifer on her way and I told Mochi to come out. Mochi stole my heart.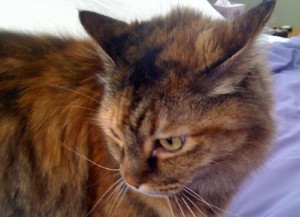 She jumped on the bed screaming and talking to me. She told me how unhappy she was about the whole situation. The best thing about Mochi is that she likes to be petted like a dog.  Using my hand and I "pound pound" on her!  She starts to purr!  I spent a good hour giving her this attention she needed.  After that I visited Mochi a couple times a day to make sure she was ok. I would yell her name and she would come bounding out.  But that's just one cat.  So I'm not a true cat lover. I go home to my Boxers.
< Fast forward!!!!! > Now we have been doing Reiki for a couple years. More and more the fur babies are cats! Each one comes to us with a new story, new issue, new problem. They have given me so much insight to what a dummy I was before not to appreciate what amazing creatures they are. The cats that to come us are ones that the owners have gone through Vets and many times they don't know what the problem is. I can remember each cat clearly that we have given Reiki to and there have been hundreds. I often think of the cat with herpes in the eye and how sad she was. She could not open her eye.  After one Reiki session , the cat's eye opened! I thought how wonderful to send the energy to this helpless creature and to have the cat so willing to receive the energy so openly!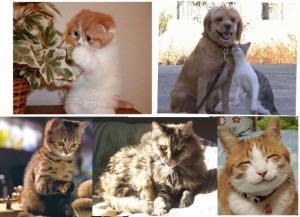 These cats have taught me empathy, compassion and understanding of an animal that is so bright and gives their owners so much love. I never had my eyes open to them before. Each time we Reiki a cat I learn something new about myself. I always appreciate the opportunity to grow and learn too. One of the cats that moved me the most belonged to an owner that had many cats. The cat went from Vet to Vet. During the session the cat communicated to me that all he wanted to do was to stay home and be with his Mama. He didn't want his last days to be poked and jabbed he wanted his last days to be with his Mama. After the session I looked at Ming in tears. I am a Reiki practitioner, not an animal communicator so this does not happen to be all the time. So all you little fur balls out there, you took one Boxer lady and opened me up. I will continue to Reiki all of you with all the love my heart holds and hope to help you as much as you have helped me.