When Janet Roper asked us to Reiki her horse I had no idea all of this was going to happen. I had no idea that the experience in itself would be so incredibly moving and life changing. Yes, it was that powerful. I could not get that interview out of my head for days. I had to read it, re-read it. I listened to it again, smart of Janet to tape it.  One of the wonderful things is that when we Reiki an animal we do get a sense of what is going on with the animal. Its a communication I call on the spirit level. But what animal communicators do is talk to them on the soul level as if you and I were having a conversation.  So Reiki Talk became a reality.
Our first horse Journey.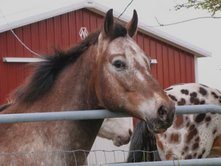 What a name. Perfect. There were no real health issues with Journey so he said the Reiki was so soothing and relaxing. He said he felt full and complete afterwards and wouldn't need another session for 6-8 weeks. He said the energy was so powerful. The Mama of this beautiful horse had taken a fall and may not ever be able to ride again. Part of the beta test is that after the interview you can ask a couple of questions yourself to your horse. One of the questions was that Mama wanted to know if she should do something since she may not be able to ride Journey again. Out of this interview was this:
JR:  She also wants to know if you would rather she find you another home where you can continue to be ridden and going places or stuck here with me and see what happens?
J:  Shakes his head, stamps both front feet, flicks tail.  I am not 'stuck' here! I am with you, you are with me.  Are we stuck together???? Maybe, but from my GOOD, common, horse sense, the emphasis is on together, not stuck.  Will I miss being ridden? Well, I see us riding together again, but in a different way than we have in the past.  We will both mature through this, you wait and see!
When Candy and I heard this we were moved to tears. What depth, what wisdom Journey had for his Mama. Life is always changing, we are always growing and evolving. We are not "stuck" here are we? We are here on this planet for a reason.  What an honor that we could have a part in getting their messages out for us. If you have a horse and would like to participate please contact Janet or us. It's going to be an amazing Journey!