Thank you so much for writing back!! I have two cats, Maurius (the grey/white furry one) and Robin (the red tabby) Well, incidentally two of them have nasty wounds.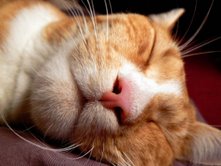 Robin has had pus in his left cheek, it burst, then took a long time to heal. Seems there's still something in there behind the dried up wound. Marius has wounds on his left back paw. Maurius was the first to receive reiki from them. They said there was a lot of pain in between the toes. (After reiki Candy had sensed that they had been in a fight, no not with each other) In writing back to Vivi, she responded saying yes, dears, Maurius could very well been in a fight because he has some unresolved issues with his neighbor.  After reiki Maurius awoke and was happy! Second to receive reiki was Robin. Robin had a sore cheek, alot of reiki went to cheek. There was a sense that there was also an infliction. Yes, the two cats had been in a fight. Thank you so much!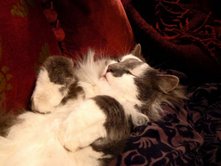 They are both sleeping happily now. I will take off Marius's bandage and see if it still needs protection. I'll let you know how they are tomorrow! Thank you once again! It's been a very interesting experience!
Thank you so much! Love, Vivi-Mari Carpelan (note: she wanted to note that her cat photos are copyrighted)
Hanko, summer resort by the Baltic Sea in Finland