When Aimee came to us with Yoshi the rat this is what she said, She is having trouble walking, moving, and even being able to eat. They said it's an inner ear infection and vertigo. She is on some medication to help, but she certainly needs something else to help her feel better. After a session last night and then this morning, (equivalent to 4 reiki sessions since 2 of us are reiki'ng her)  Aimee tells us: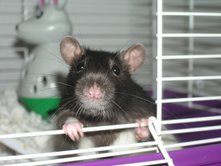 Yoshi did so much better last night, it seemed that she improved as the night went on. She isn't fully recovered, but there is such a difference. I can't thank you enough, I can see already that she feels much better and less stressed. She ate well last night and this morning, and seems to be holding herself up in a more balanced way. Thank you again! So glad to have connected with you! Aimee, UTAH
Yoshi taught us all creatures from great to the smallest are blessings and all deserve the loving energy. Thank you Yoshi!