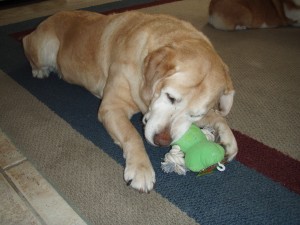 Today Sammy Diva turns 9! Happy Birthday to Sammy Diva. I adopted her when she was 2. She was the Mama of the seeing eye dogs and at 2 years they were done with her. She lived on a mountain somewhere in Northern Cal. Kept in a crate outside and let in a house once a month when it was her turn. She did see a cat every month. Little known to her she would one day have a sister named Mochi, a mainecoon who would grow to love her. When she was two, the dog that was in my house had moved out with my roommate. I was always a cat person my whole life. I thought Mochi and I would do just fine. But I started to miss a dog. A dog was different. I missed a dog following me around. Mochi is wonderful and a great companion but I wondered if I could have a dog. I told Candy I think I wanted one for I would walk her Boxer, Ry often to have that companionship. I told Candy that my favorite dog was a yellow labrador. Why? I don't know. Liked the way they looked I guess. I love that pointed nose. Probably because being asian my nose is so small and "flat".  I was teased enough as a kid. SO we sought out to look for a yellow lab.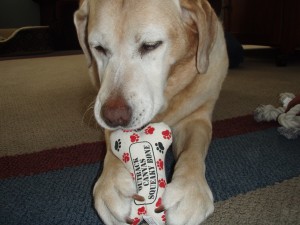 Candy suggested since I worked that a puppy though so cute would not be for me. We put it out there in the universe. I wanted a yellow lab between 2 and 3 years old. I don't know how we found her but there she was on the internet. A yellow lab 2yrs old and needed to be adopted. A inquiry was sent, a picture was sent. I was in love.  Candy and Gordon happened to be in northern Cal and drove way out of their way into some deep mountains up in northern Cal and picked up my yellow lab. They had called her "Diva" because she won a beauty contest.  I always loved the name Samantha being the tom boy I used to be. Love names that can be "boy" names. So I wanted to name her Sam but didnt want to get rid of the Diva. Hence the name Sammy Diva. Anyone that knows me would know I'm not the type of person to call a dog "Diva". But now you know the story.
And it is her birthday. I love her more than life itself. She has brought me nothing but pure joy. When I first got her I sang to her all the time , " you are my sunshine, you are my sunshine, you make me happy".  She has seen me go through some tough times as well as happy times. She was just there the other day to lick my tears away.
We had a party for her. Daddy, Lucy and I. Lots of toys and lots of playing… Sammy Diva loved her new toys!
I know all of you out there that have a dog understand. Happy Birthday Sammy Diva. I love you.